JuCad - founder of the design class
Over the past 43 years the Limburg-based JUTEC Biegesysteme GmbH & Co. KG has successfully positioned itself on international markets with its luxur y trolley brand JuCad. With their JuCad branded products, this innovative company with a long tradition quickly established themselves in the luxury segment. This German golfing success story began in 1988 with the first detachable designer stainless steel golf trolley with 3-spoke wheels.
In 1998, the renowned family-owned company developed the first electric design trolley made of stainless steel, with concealed, axle-integrated cables and motors. A new milestone was reached in the trolley industry with the simultaneous introduction of a further technical innovation - the "invisible" housing of the battery in the golf bag. In 2014 JuCad again raised the bar for innovation within the golf industry by launching the JuCad Phantom and its worldwide unique full carbon single-spoke rims.
In 2017 and 2018 the JuCad brand was honoured with the coveted "German Brand Award" and named Brand of the Year in the golfing equipment category. In 2020 JuCad is once again one of the leading German brands and delighted to receive the German Design Award for the Ghost manual. The e-trolley JuCad Ghost Titan was honoured three times in 2018: iF Design Award, German Design Award and reddot Award. In 2019 this successful model was upgraded with the innovative technology package 2.0. The new generation of titanium, stainless steel and carbon models 2.0 in 2020 integrates innovative state-of-the-art technology such as brushless motors with double-sided electronic parking brake, magnetic plugs and charge status display.
In its Brand Study of 2018, the European Brand Institute confirms JuCad as Number 1 brand in the golf trolley category. In 2022, JuCad has once again been voted one of the leading German brands and Brand of the Century.
The unique designs are created for golfers who appreciate superior quality. Highly efficient technology, such as intelligent positioning of the high-tech motors in the trolley axle, ultra-light weight, tailor-made packing dimensions – foldable or easily disassembled into very small units – and consistently elegant design, make each JuCad trolley an outstanding masterpiece. They are designed by people with utmost expertise, an artistic sense of style and technical accuracy. The enormous innovative power of the JuCad brand in design, marketing and communication rests in the creative hands of Kira Jung. This is particularly evident when it comes to individuality. Customers' wishes constantly motivate to look beyond the horizon and develop the perfect trolley for every customer.

JuCad is the first manufacturer in the golf industry to offer their customers a personal trolley configurator online, thus enabling fulfilment of almost every configuration requirement. The JuCad brand is a hallmark of colour variety and invigorates the fairways with refreshing trolley and bag designs. JuCad crafts three premium materials: titanium, stainless steel and carbon. In every respect, only the best combination is chosen. For these technically sophisticated trolleys, state-of-the-art mechanical precision is combined with exacting craftsmanship of the highest degree thus ensuring consistent outstanding quality.
A team of highly specialised experts at five uniquely vertically integrated sites in Limburg manufacture sustainable and durable golf trolleys. For the past 20 years, this globally successful, more than 100 employees strong, family business has been managed in second generation by Kira and Dipl.-Ing. Jörg Jung, MBA.
At the ultra-modern JuCad Center with its 2000 m² exhibition and ser vice area, our JuCad team is available to offer comprehensive advice on the vibrant variety of JuCad products and for dealer training. The premises showcase the JuCad range of trolleys along with golf bag models and accessories. The service centre is located on the second floor , equipped with state-of-the-art technical tools.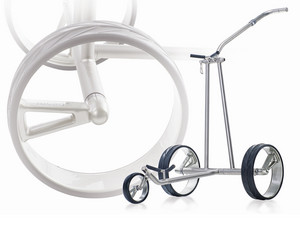 Hightech Manufacture with tailor-made Craftsmanship
Handmade in Germany, each JuCad is an original piece of valuable and unique quality. The extraordinary design and value retention of JuCad over generations make these hand - crafted pieces timeless classics.
For 40 years we have been passionately manufacturing tube bending systems for metal construction, pipeline construction, system engineering, the automotive and aviation industries and many other applications. Against the background of this manufacturing experience, we commenced developing complex tube bending parts for golf trolleys with our own machines in 1988.
With many years of experience and an aesthetic and functional vision, we are well positioned to achieve the highest standards for a perfect combination of design and materials.
We have created a world of trend-setting materials, innovative technologies and refined functional elegance culminating in a harmony of timeless design. State-of-the-art technology and the use of exclusive materials make every JuCad trolley an original with a lasting value. Concentrating on the essentials with a view to individuality and sustainability is a given; we demand the highest standards both of ourselves and the way we manufacture.
This is what you experience with our first-class customer service, which never loses sight of the people beyond our products. This conveys a reassuring feeling in both ourselves and our partners.

Welcome to JuCad's Golfing Universe.