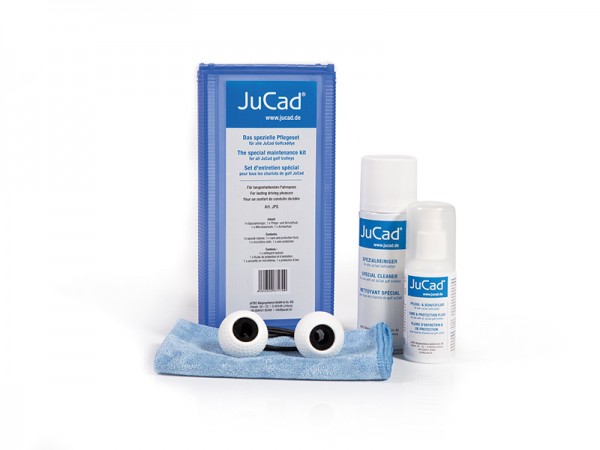 Every JuCad trolley needs some TLC and the right care. For our electric trolleys in particular, a few things must be considered. Especially since JuCad trolleys are virtually maintenance free, regular and above all appropriate care is all the more important. All moving parts and axle connections of the golf trolleys are coated with a transparent lubricating film ex works to ensure the highest possible driving and operating comfort. The transparent lubricant film may darken over time, so it is worth cleaning the relevant areas regularly.
Of course, your trolley will not always stay clean when in use and may accumulate grass, mud or sand. JuCad trolleys can be easily cleaned with a damp soft cloth (e.g. microfibre cloth). Any dirt accumulated on the wheels can be either blown off with compressed air available at the golf club or each wheel cleaned with a little water. To maintain smooth operation of the moving parts we recommend regular cleaning and care of both wheel suspensions, the plug-in and folding joints as well as the bag holder joints.
We recommend our maintenance kit for cleaning and protection of all JuCad golf trolleys in titanium, stainless steel, alu+ and carbon. Comprises special cleaning liquid, micro lubrication with nanocoating, axle protectors with cleaning fleece and microfibre cleaning cloth.